Portable radios make dedicated two-way communications faster, clearer, and easier to use for users onthe move. These practical radios can easily help increase productivity by keeping users communicating, while allowing them to concentrate on the job at hand.

Motorola BPR40
Small Size and Light Weight Make it Ideal for any Business
An affordable, high-performance communication tool that will be a reliable solution for your communication needs. When you equip your work force with the BPR 40, they will be able to react more efficiently. Quicker response, better customer service, saved trips, and increased safety – they all add up to better operations and a streamlined process. The Mag One by Motorola BPR 40 two-way radio not only provides affordable communication, but also a complete assortment of accessories for radio customization. And it's backed by Motorola service and a 1-year limited radio warranty.
Ideal for: Education, Hospitality, Light Construction, Restaurants, and Retail.
Features: 8 to 16 channels for group communications · Programmable buttons · Small, lightweight, diecast chassis built to withstand everyday wear and tear · High-power or low-power option, to save battery charge · Priority Channel Scan · 12 Programmable Features to choose from.
Specifications: Frequency Range: VHF (150 -174 MHz) or UHF (450–470MHz) · Power: 1W/4W (UHF), 1W/5W (VHF) · Battery Life: 8 hours (high power - 4W/5W); 11 hours (low power - 1W) - based on 5/5/90 duty cycle · Dimensions H x W x L (with standard battery) - 4.21" x 2.28" x 1.46" · Weight (with standard battery) – 12.3 oz. · Warranty: 1 Year
Motorola BPR40 Downloads
Motorola BPR40 Brochure
Motorola BPR40 Data Sheet
Motorola BPR40 Accessories Brochure

Motorola CP185
Enhanced Functionality, Reliable Communication - for a Higher Level of Productivity
Ideal for educational institutions, retail and hospitality businesses, service and manufacturing industries and many other demanding, professional applications, the Motorola CP185 brings you a robust two-way radio solution. The CP185 has an extensive feature set including built-in voice scrambling for increased privacy, VOX capability for hands-free communication, 5 programmable buttons and X-Pand™ Technology to provide crisp, clear and strong audio quality even in noisy environments. Combined with the compact, lightweight design of the CP185, you get just what it takes to enhance communication while increasing productivity.
Ideal for: Education, Construction, Hospitality, Manufacturing, Property Management, and Retail
Features: 16 channels to support communication among all of your employees · Easy-to-handle, lightweight, compact design · Voice scrambling for increased privacy · VOX ready for hands-free communication · 5 programmable buttons · Channel Scan
Specifications: Frequency Range: VHF (146– 174MHz) or UHF (438–470MHz) · Power: 4 Watts (UHF) / 5 Watts (VHF) · Up to 10 Hour Battery Life (based on 5/5/90 duty cycle) · Dimensions H x W x L (with standard battery) – 4.72" x 2.28" x 1.46" · Weight (with standard battery) - 12.34 oz. · Mil Spec - 810 C, D, E, F · Warranty: 2 Years
Motorola CP185 Downloads
Motorola CP185 Brochures
Motorola CP185 Brochure
Motorola CP185 Brochure for Education
Motorola CP185 Brochure for Hospitality
Motorola CP185 Brochure for Manufacturing
Motorola CP185 Brochure for Property Management
Motorola CP185 Brochure for Retail

Motorola CP185 Spec Sheets
Motorola CP185 Display Model Spec Sheet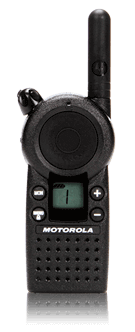 Motorola VL50
Small, Lightweight, and Simple-to-Use
The VL50 portable two-way radio connects employees easily and affordably. This intuitive, cost-effective device helps employees to react quickly to requests, as well as have instant access to one another. Part of Motorola's Value Line series, this radio is designed with business productivity in mind, delivering exceptional functionality at the push of a button. This affordable, easy-to-use unit combines high-performance functionality with an accessible, durable frame.
Ideal for: Event Coordinators, Restaurants, and Retail.
Features: Up to 8 conventional channels · Scan · VibraCall Alert · Radio Signal Strength Indicator · Enhanced VOX (No accessory needed) · 7 Selectable Call Tones · Also can operate on 3 AA Batteries for Emergency Situations
Specifications: Frequency Range: UHF: (461–470MHz) · Power: 1 Watt · 12 Hour Battery Life (based on 5/5/90 duty cycle) · Coverage area Up to 200,000 square feet (15 floors) · Voice operated transmit (VOX) · Dimensions H x W x L (with standard battery) - 5.8" x 2.0" x 1.1" · Weight (with standard battery) - 4.6 oz. · Standard Warranty: 1 Year