Motorola Dispatch Communications

Enabling seamless connectivity into an ASTRO® 25 trunked system, the MCC 7500 provides the emergency command center dispatcher with mission critical grade audio quality, simplified configuration and management, superior protection of communications information, and the ability to geographically distribute dispatch resources anywhere on the network. The user interface is efficient and easy to use, having been refined and proven through years of use in public safety dispatch centers around the world.
Feature and Benefits
Meets public safety customer needs to prevent, prepare and respond to emergency situations. Dispatch puts real-time information in the hands of public safety personnel providing better information for better decisions.
Emergency calls prioritized to get through no matter how busy the network
Voice quality and intelligibility is optimized to eliminate clipped or degraded audio.
High quality audio maintained despite increasing traffic loads.
Calls set up in a fraction of a second, regardless of the size of the system.
Voice messages consistently delivered in the shortest possible times.
Call traffic quickly re-routed in the event of an IP network path failure, minimizing lost audio and any impact on the end user.
Dispatch performance enhanced and bandwidth efficiency improved by using IP multicast technology.
Motorola MCC 7500 IP Dispatch Console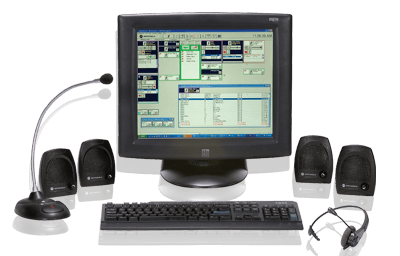 The MCC 7500 Dispatch Console is Motorola's ASTRO® 25 Mission Critical IP Dispatch solution designed to ensure superior audio quality and prioritized emergency calls, regardless of call volume or traffic loading. The MCC 7500 also provides true end-to-end encryption for secure calls, and the easy-to-use Elite Graphical User Interface (GUI). Connecting directly to the IP network without central electronics or gateways, console positions are seamlessly integrated with ASTRO 25 systems. Both trunking and conventional channels interface to the MCC 7500 through the same IP network.
In tandem, a flexible, versatile, and scalable digital logging solution is being introduced. The logging solution provides audio quality equal to that of the MCC 7500 operator position and is compliant with Motorola's network security and quality requirements.
Motorola MCD 5000 Console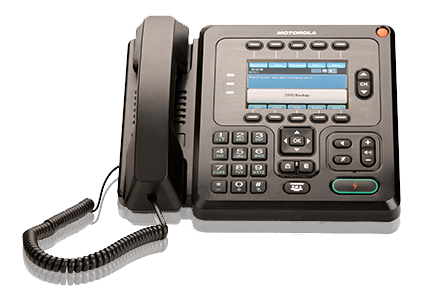 The MCD 5000 Deskset brings you VoIP technology for your conventional and trunked communications. Ideal for dispatch environments, back-up sites, alternate locations, special events and call monitoring, the MCD 5000 Deskset is a powerful and easy-to-deploy VoIP solution for your radio system. With IP technology, you have the flexibility to quickly install desksets where you need them using your IP network infrastructure. And you can easily expand communication capabilities throughout your organization for increased safety, awareness and coordination.
Motorola MCD5000 Features
Designed For The Way You Work
With maximum usability in mind, the MCD 5000 Deskset is ergonomically designed with an intuitive layout and an adjustable viewing angle for both occasional and constant everyday use.
The large and easy-to-read color LCD screen gives at-a-glance access to critical information including messages, channel status and names, along with emergency and user IDs.
You can customize the programmable softkeys to the unique needs of installations and users for quick control of the standard functions of each radio.
Automatic Security Time Lock
Secure your communications in locations that are not staffed continuously, have public access or access sensitive channels.
Increase The Safety Of Your Staff|
Better protect your staff. Because emergencies take many shapes and can happen anytime, anywhere, the MCD 5000 Deskset includes the orange emergency activation button familiar on so many Motorola radios.
Emergency Notifications
The MCD 5000 Deskset allows you to manage inbound field unit emergency activations from many system types, including ASTRO® 25 systems.
MCD 5000 Radio Gateway Unit (RGU)
Connect the MCD 5000 Deskset to radios over your IP network using the MCD 5000 RGU. The MCD 5000 Deskset dynamically switches between MCD 5000 RGUs, giving access to additional radios across the network and expanding communications. Each MCD 5000 RGU can connect up to four radios, and each MCD 5000 Deskset can connect to one channel at a time.
Motorola MCD 5000 Brochure
Motorola MCD 5000 Spec Sheet