Motorola Products for Government Agencies

APX™ Series Of Two-Way Radios
A Complete Lineup Of Mission-Critical Radios
From affordable single-band utility radios to ultra-rugged all-band firefighter two-way radios, APX offers it.

You Are Ready For The Next Call. With APX™, So Is Your Radio.
In an emergency, other first responders may be a few feet or several miles away. When every second counts, you need a radio you can rely on to get the job done. Since coordinating response and protecting lives is at the heart of every mission, every two-way radio transmission is crucial. Every radio has one job and one job only: to keep you safe.
ASTRO 25 is the leading Project (P25) standards-based system used by over 11,000 agencies around the world. With uncompromising real-world performance and legendary Motorola reliability, the ASTRO 25 solution continues to evolve, adding practical innovations and performance-driven capabilities that enable government agencies to protect the communities they work in and support neighboring communities through interoperability.
The APX P25 two-way radio series redefines safety in communication. APX puts the right device into the hands of the right user. Every feature and function is designed with its users in mind – from the rugged, easy to operate design to the loudest, clearest audio. The result is the ability to keep your people and community safer than ever before.
Astro® P25 Portable Radios
Astro® P25 Mobile Radios
Astro® 25 Control Heads
Digital Vehicular Repeater System (DVRS)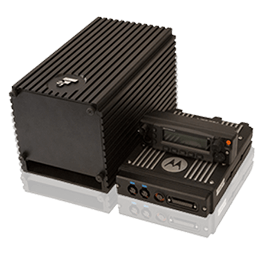 This component extends the radio coverage of your network by providing repeater capability between portable users and the base station.
Digital Vehicular Repeater System (DVRS)
Dispatch Communications
When lives are on the line or business continuity is jeopardized ...
Have the peace of mind that your dispatchers have the best tools available to respond quickly and effectively. Whether your organization is large or small, with basic or complex needs, our dispatch communications solutions provide the reliable connectivity, intuitive operation and robust functionality to ensure everyone gets home safe or power is restored. 
Public Safety LTE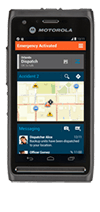 Applications, devices, networks and services for mission-critical operations.
Providing new levels of safety and efficiency to enable better decisions is about more than just better equipment, it's about delivering new ways to connect people to information and each other. To get the most out of a world that offers richer real-time information, you will require a complete ecosystem that encompasses Long Term Evolution (LTE) networks, smart applications, purpose-built, intuitive devices and comprehensive services.
Count on our Public Safety LTE solutions to deliver anywhere, anytime access to multimedia information with the priority, resiliency and security you demand.
Redefining Body-Worn Camera Systems
The Unified, Simplified, Smart Digital Evidence Management Solution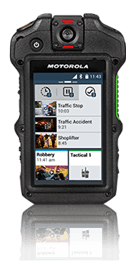 Powered By The Si Series & CommandCentral Vault
Motorola's Digital Evidence Management Solution is comprised of the Si Series Video Speaker Microphone and CommandCentral Vault Digital Evidence Management Software. Combined, they provide a unified, simplified, smart approach to capturing, storing, managing and sharing multimedia content for greater public transparency and accountability.
Motorola Body-Worn Cameras
Capture Critical Events Instantly and Accurately
Motorola's Si Series Video Speaker Microphones (VSM) allow agencies to trim down the number of devices needed for public safety personnel to do their job effectively. An extension of the high-performing Motorola APX™ radio, the Si Series is a smart interface with an integrated remote speaker microphone and body-worn camera in one. It assures the reliable voice and mission critical sight, sound and security your officers need to work safely.
CommandCentral Vault
Capturing Video Is Not Hard, Managing It Shouldn't Be Either
What you do with video evidence after capturing it is what can make the difference in addressing accountability concerns with the public and protecting officers and citizens alike. Take an innovative approach to content management with a complete workflow to store, manage and share your body-worn video from CommandCentral Vault.
CommandCentral Vault is a CJIS-capable cloud application, part of Digital Evidence Management Solution, designed to reduce administrative overhead; simplify digital storage challenges and maintain agency policy and compliance.
WAVE Work Group Communications
Push-To-Talk (PTT) is no longer a technology-driven term, it is an enterprise-wide capability. It enables teams to communicate instantly, reliably and productively together to improve business and elevate service. Today, broadband networks and devices are so ubiquitous, that any worker can be connected to any device in their pocket or on their desk with real-time communications through PTT. With interoperable broadband PTT, everyone can become part of the conversation without concern about which device or network they use.
The revolution is being push-to-talked about. Today, virtually everyone can benefit from push-to-talk (PTT) across their organization. PTT brings the immediacy and spontaneity to connect different personnel together seamlessly. Regardless of their location, the network they're on and the device they use, PTT makes everyone part of the conversation for truly enterprise-wide communications.
PTT affords unlimited opportunities for organizations of every size – from the small police department in a rural community to the large, distributed multinational enterprise that needs supply chain efficiencies across the board. PTT is the pathway that unifies communications and facilitates collaboration for greater operational efficiency. Just as texting and tweets are the conduit for much of social media, PTT is transforming the way enterprises use voice.
Video demonstrating the benefits of using WAVE Work Group Communications from Motorola Solutions to connect people across multiple government and public safety communications systems for increased collaboration and productivity.
Benefit From Enterprise-Wide Communications Like Never Before
Make LMR Interoperability an Everyday Reality
Experience The Immediacy of Broadband PTT
Extend The Capabilities Of LMR To Broadband
WAVE Work Group Communications
Motorola Pagers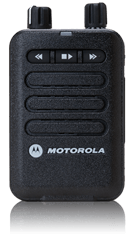 Whether it's answering the call to an urban incident or a wildland fire, many firefighters, EMS personnel and other first responders rely on their pager. The new MINITOR VI™ Two-Tone Voice Pager is rugged, reliable and lightweight. Built for the realities of firefighting and emergency response, the new pager offers improved ergonomics, better wearability and much more.